Sailing Week in Antigua
By P.J. Thomas
I'm not totally new to sailing. I had taken lessons a few times in the calm, protected waters near the Annapolis shoreline. Then, the captain has been extraordinarily patient, even kind, to the group of middle-aged women who were his crew. So how do you explain the fix I found myself in, hanging over the side of a boat during Sailing Week, in Antigua, one beautiful April morning?
It seemed I was not alone in the miscalculation of the voyage.
"I thought I was going to be on deck with a cool, little drink in my hand," said Doug Singer, a writer from New York City.
"Ok, I need someone to help with this line," yelled the Captain. Doug and I were looking down at the sea, our bare feet dangling just a few feet from the waves, and afraid to move.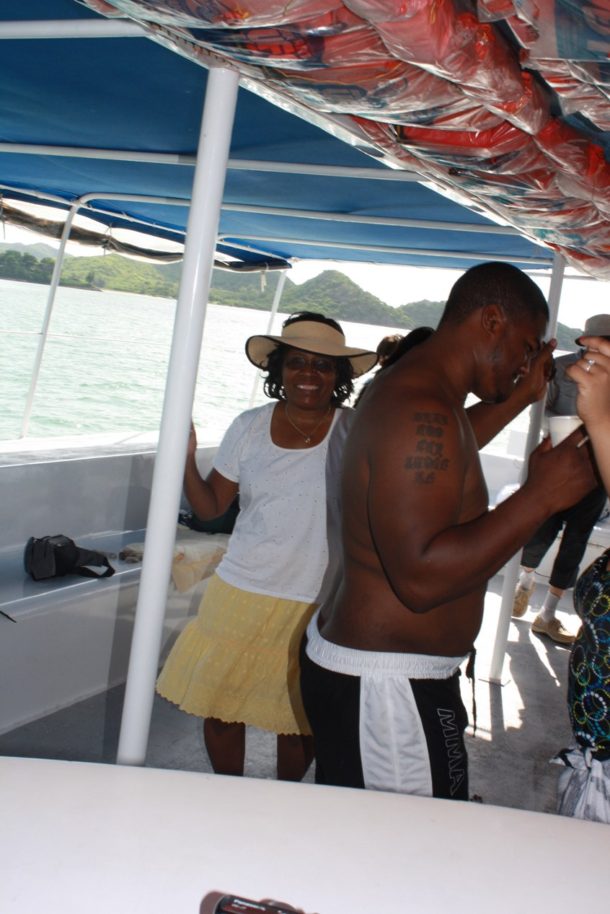 But after a few minutes of assurance from the Captain that the 40-foot sailboat was in no danger of capsizing despite what appeared to be a perilous angle, we tried to relax and enjoy this once-in-a-lifetime experience.
We tried to obey his instructions to ease the sails, or turn about, running back and forth across the deck of the boat to help as best we could with the dizzying collection of ropes and cranks. The beautiful craft zigzagged through the waves and wind, pulling close to the million-dollar race boats while keeping a far enough distance so as not to interfere with the race.
Approximately 200 sailboats from around the world participated in five days of The Antigua Sailing Regatta, the prestigious last leg of 2010 sailing season in the Caribbean. I had to admit it was thrilling.
The island is alive with sailing week activities and even if you have no yacht of your own, every evening there parties indoors and on the beach, to enjoy. The hub of activities is Nelson's Dockyard National Park where many impressive yachts bob in the water.