Antigua is the larger island of a two-island nation, while Barbuda the second island, is located 27 miles away. Antigua is also the largest of the Leeward Islands in the Caribbean with a circumference of about 62 miles and claims enough white-sand beaches to satisfy sun worshipers with a different beach for each day of the year.  Fryers Beach is the one most popular with locals.  So popular, Randy, my tour guide jokes, "Sixty percent of the population was conceived on that beach!"
Canopies of banana, silk cotton and Mahogany trees form forests which hug the winding road that circles the island. And a mango or orange tree sprouts from the neatly kept yard of nearly every home. Mt. Obama at 1,319 feet high (renamed in 2009) looms over the island and can be seen from every direction.
The people are English-speaking, the majority descendants of enslaved Africans who were brought here in the 17th century to develop and work sugar plantations.
The island promotes itself as a high-end destination, and there are certainly enough luxury hotels and million dollar homes to support that claim. But, Antigua is dotted with affordable accommodations suitable for the budgets of most travelers as well. In addition to the resorts, you will find villas for rent whose prices vary according to location and season.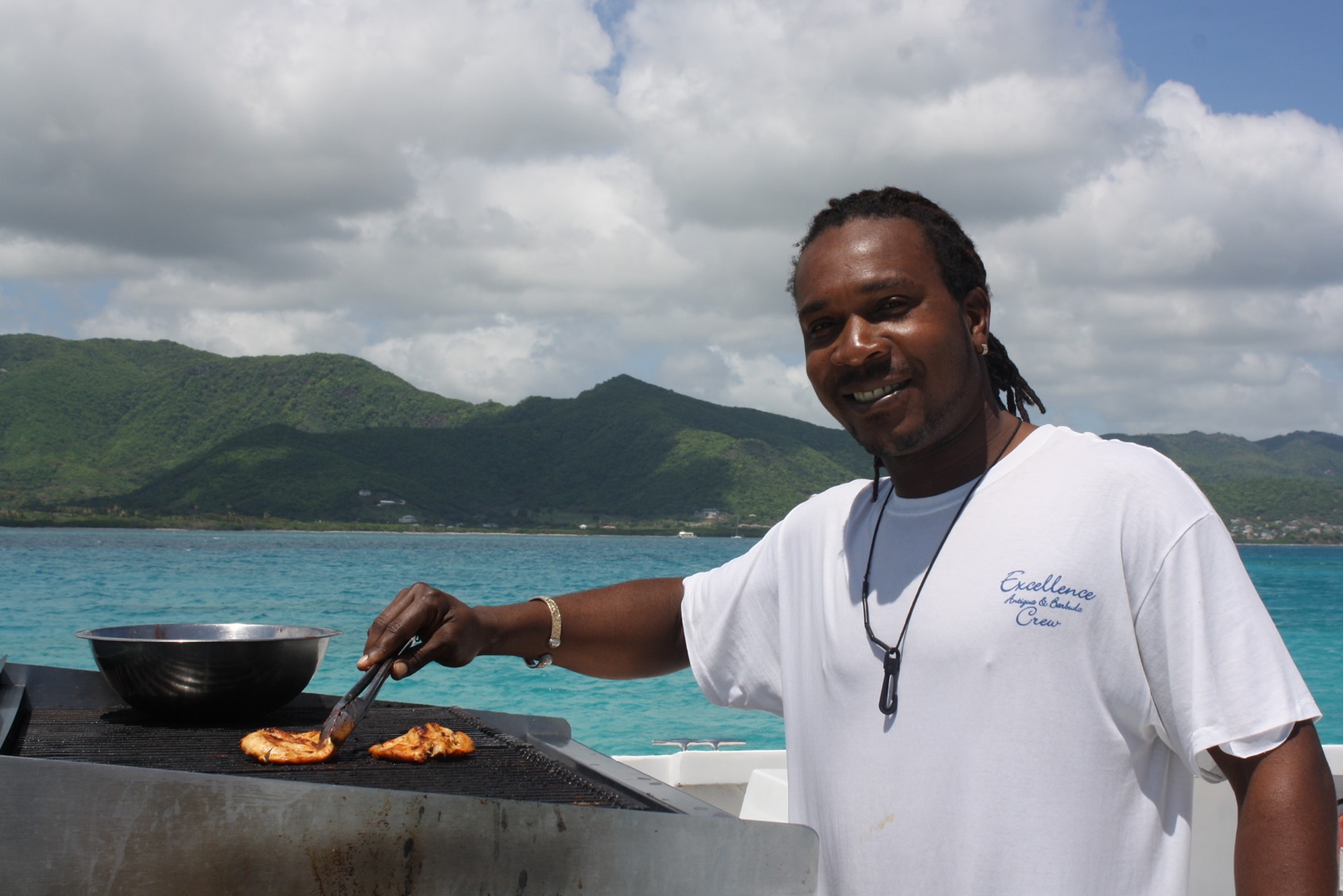 Don't expect to find the gregariousness of other islands such as on Jamaica. Antiguans are far more reserved and it would be easy to label them aloof. But during conversations over good food at Bube's Restaurants, a local favorite, or during breaks at a Third World Concert, they were as lively and welcoming as people anywhere in the Caribbean.  Be sure to check out Bube's. In addition to fantastic food, there are lots of local to strike up a conversation with and beautiful views while dining.
However, imagine the surprise, when during the Third World Concert, there was no massive, "Excuse me while I light my spliff" moment.  During some concerts with a Reggae band like this, the air would have been thick with marijuana (in the U.S. as well).
The location of the concert was at Shirley Heights a lovely lookout that provides forever views of English Harbor.  You can enjoy lunch or drinks here and if you really don't care about seeing the sailing races up close, you can see the boats dotted in the sea below. Ask anybody on the island how to get there and they'll tell you.
Rent a car or hire a driver to visit Heritage Quay and Redcliff Quay, the main waterfront areas for shopping and dining. Take your time and shop carefully at both locations and you'll be rewarded with original  handmade crafts, art, clothing and jewelry designs rather than the mass-marketed clothing you  find throughout the Caribbean.
Antigua is perfectly suited for travelers who are comfortable enjoying the serenity and beauty of one of the Caribbean's spectacular islands.