By Gay L Johnson
When the temperature heats up, many adults reach for a beer. But for wine aficionados, that's not even an option. I have a friend who drinks high-alcohol, heavy tannic Napa Valley cabernet sauvignon year round, regardless of the thermometer reading. I asked her, "Why are you drinking that big "cab" in this heat?" And she replied in her best Bruno Mars-like signing voice, "That's what I like. That's what I like." However, for most wine lovers, as the weather turns warmer, their wine choice turns lighter and fruitier.
The key to enjoying wine in warm weather is watching the alcohol levels. In wine, alcohol translates as heat on the tongue and a big, hot blowback in the throat. There's nothing refreshing about drinking a big, bold room-temperature red on a 90-degree day. Look for wines with alcohol levels less than 13%. This is depicted on the label as alcohol by volume (ABV). The ideal wines for summer sipping are rosés, crisp whites; and yes, even certain red wines on a chilly evening.
Rosé has come a long way since the cheap, bitter tasting quaff imported in the 1970's from the Portuguese wine wastelands. Today, high-quality rosé from throughout the world are plentiful and delicious. For casual, summertime sipping Gérard Bertrand cote des roses Rosé ($14 most stores, $12 Costco) from the Languedoc region in southern France is a great value. The wine is made using three popular Provence-area grapes cinsaut, grenache and syrah. In addition, the rose carved into the base of the bottle is a conversation starter. Lastly, rosé is a versatile wine that pairs well with starter to main course foods.
Riesling is another great wine that matches up glowingly with food. Oregon winery Trisaetum, (tris-say-tum) makes six riesling wines, each with 90+ point ratings. Their 2016 Ribbon Ridge Estate ($32) bottling, with only 11% ABV has a blast of bright acidity and zesty Meyer lemon flavor. Serve alongside afternoon sushi, steamer clams or a grilled salmon entrée.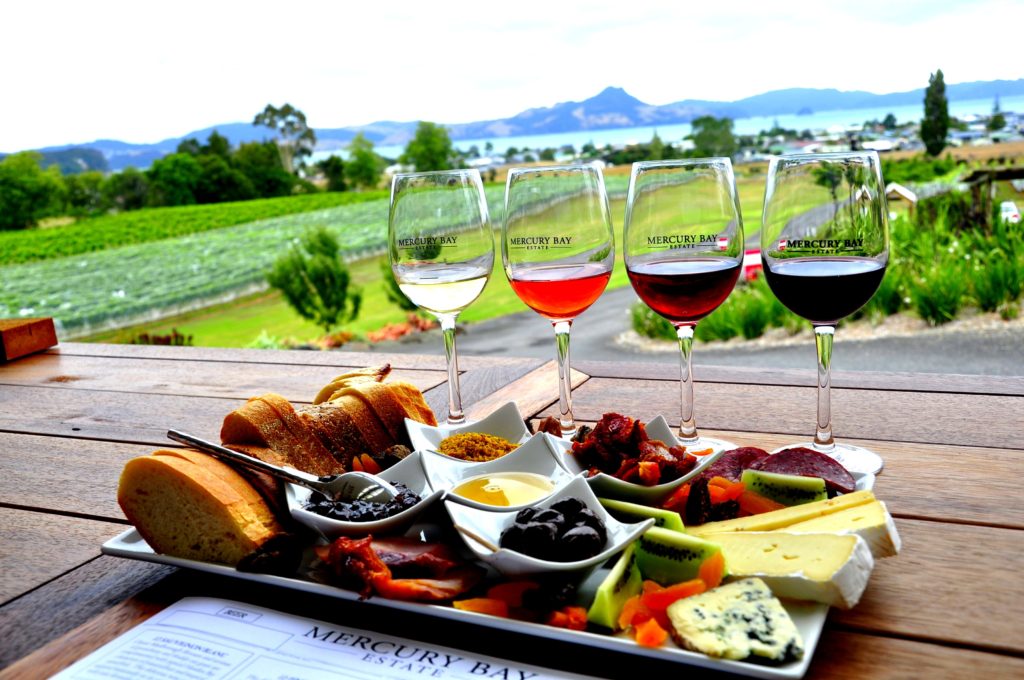 Chablis is a style of Chardonnay wine from a northern Burgundy, a legendary French region. If chardonnay had a lineage, Chablis would be royalty. What sets it apart from all other chardonnay is the terroir, which includes distinctively Kimmeridgian chalky soils, brisk climate, as well as expert winemaking frequently handed down through generations. The best Chablis earn status as Grand Crus, reflecting the locations with the highest degree of minerality, an oft-debated tasting note. There are seven Grand Crus regions. Each is considered cream-of-the-crop, with characteristic soils that express concentrations of minerals such as potassium, calcium and magnesium. A hundred dollars may be too much to spend on a bottle of wine for the family barbeque; but you can find more responsibly priced Chablis for half that price.
The next level of quality is called Premier Cru Chablis. Producers such as Domaine Laroche, William Févre and Joseph Drouhin are excellent stand ins for the pricier Premier Crus. For example, Domaine William Févre Chablis Premier Cru Vaillons 2015 ($50) has balanced acidity, flavors of lemon, apple, and that desired minerality. Chablis makes a wonderful pairing partner with grilled oysters and clams or chicken.
Frescobaldi Castello di Pomino Bianco 2016 ($20), a blend of chardonnay and pinot bianco has a pleasing floral flagrance, along with apricot, green apple and pear flavors. This refreshing Tuscan wine will pair well with healthy summer food choices including an antipasto platter or fish and vegetable sides.
Another couple of great selections are riesling or pinot gris wines. Snoqualmie Riesling Columbia Valley ($9) shows pear, apple, and honey flavors and an added bonus of aromatics. The Alsace France Trimbach Pinot Gris Reserve ($17) has ripened apricot and honeysuckle flavors. Amazingly, for a wine that costs less than $20 it can age for 10-plus years. Either of these wines are ideal for fanciful aperitifs and savory main courses.
Having a few friends over for dinner? "A glass of lightly chilled pinot blanc or pinot noir rosé ($25) would be an excellent choice with seafood. The crisp acidity and juicy fruit flavors are a match made in heaven", says Kala Othman of Kynsi Winery in Eden Valley. Their Kynsi Pinot Blanc ($24) is one of my favorite white wines.
Kala's parents Gwen and Don Othman started Kynsi in 1995. She continues, "Our whites are gently whole-cluster pressed on a Champagne cycle, which avoids crushing the seed; creating this beautiful, aromatic juice to ferment. Both the pinot blanc and rosé are produced in stainless tanks, preserving those delicacies."
Nothing speaks summer like a cookout with burgers and barbeque. But often, nights are still quite warm so red wine drinkers should stick to light-bodied reds for evening sipping or dinner accompaniment.
Kynsi Pinot Noir Bien Nacido Vineyard ($46) has soft cherry and raspberry flavors that don't get lost when paired with grilled meats. The Bien Nacido Vineyards, located in Santa Barbara's Santa Maria Valley is one of the most-sought-after and esteemed vineyards in America. The Othman's have been producing pinot blanc, pinot noir and syrah from Bien Nacido growers for 17 years.
Bien Nacido translates to "born well"; and pays homage to the land itself and its inherent superiority. Kala explains, "The vineyard is nestled behind white rock in a unique microclimate and is in a world all its own. Cool growing varietals thrive in the loamy soils with alluvial deposits and benefit from cooling ocean breezes."
Lambrusco is an Italian light-bodied, red wine made from the same-name grape variety. It is fizzy and typically produced in a sweet* (dolce) style, although there are dry (non-sweet) styles. The dry bottles will be labeled "secco". The Cleto Chiarli Lambrusco Grasparossa di Castelvetro Amabile is very fragrant, with plum and cherry flavors. Don't be intimidated by the lengthy, difficult-to-pronounce name. This is a flavorful wine you can proudly serve to a large crowd as it is affordable ($15) yet has reasonably solid quality. And with only 11% ABV, you won't worry about falling asleep face first in your potato salad on a hot afternoon.
Greywacke Pinot Noir 2014 ($35) is a deep, earthy red from the southern hemisphere has black tea, lavender, strawberry and cherry flavors. The vineyard is situated along the Brancott ridge, which brings strong winds that keep troublesome mold, the nemesis of pinot noir from growing on the vines. Winemaker Kevin Judd is a New Zealand wine pioneer. Prior to establishing Greywacke in Marlborough, Judd was the founder of legendary Kiwi winery Cloudy Bay.
Another note:
How is Sweetness or Sugar in Wine Defined?
Sweetness is defined as "how many teaspoons in a glass?". It is measured as X g/L RS, which in the Unites States (since we did not adopt the metric as promised to many of us back when we were in grammar school) translates to the number of teaspoons of residual sugar (RS) in a 5 oz. glass of wine. "X" is a number between 0-220. G/L is grams per liter. Below lists the number of teaspoons found in a glass of wine with these classifications.
Dry Wines – 0-10 g/L RS
Off-dry – 10-35 g/L RS
Sweet – 35-120 g/L RS
Very Sweet – 120-220 g/L RS
Gay Johnson is a Certified Specialist of Wine – Society of Wine Educators
Certificate Level II – International Sommelier Guild (ISG)